| | |
| --- | --- |
| | Archives of the english editions ol the Aberteke. |
(only english-speaking presentations from some parts of the walloon edition).
---
Walloon is the "normal" language of Walloonia; why is it nearly no longer used ?
---
May 2002.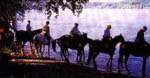 Horseback Riding Club of Ifrane.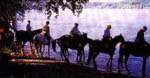 ---
August 2002 Summer university:
Walloon (and dutch) from english



---
September 2002
Days of patrimony:
A letter by Djan-Pire Dumont to the conservator of the open-air museum van Fornea Sint-Mitchî (in French).

To the memory of today's victims of the Global Apartheid and state terrorism.
---
October 2002
Do farm subsidies prevent Third-world peasants to emerge economically ? (in walloon).
---
The All Saints' Day against Halloween (in walloon).
A poem about the massacre of Chatilla (Lebanon, 1982).
---
Walloon translation of the Genesis, the first book of the Bible, by Laurent Hendschel.
An old (17th century) walloon-speaking Christmas song
Vouss vini, cuzene Mareye ? (audio mp3).
---
January 2003.
The social capitalism, from Karl Marx and Leyon XIII to de Gaulle (in walloon).
Commercial enterprises using walloon in their marketing.
Free downloadable walloon erotic calender from J. Schoovaerts:
The 2003 Almanac of J. Schoovaerts.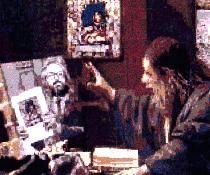 Our linguistic researches
The harmonization (pre-normalization) of ethnic texts presented on this site, 1997-2001.
---
February & March 2003.
Our basic article:
The corruption in the Third-world and its future consequences. (in walloon)
Studies and reports on walloon.
Downloadable Union Culturelle Wallonne documents (in French).
---
April 2003.
Our journalistic paper.
Khomeyni's Iran is 25 years old (in walloon).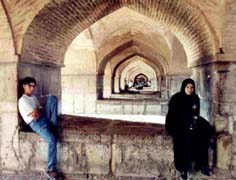 Software and "small" languages.
Walloon is one of the languages of the new Mandrake Linux 9.1 version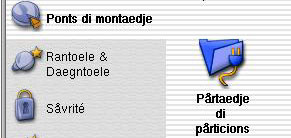 ---
May 2003.
Old and recent history of Hungary, particularly its links with Walloonia.
Li Hongreye, ayir ey enute. (in Walloon).

May 1940 exodus of Belgian civilains to South-France because of the German invasion : a testimony of Emile Pècheur.
Deus Frés et céncwante sicolîs so les voyes di France. (in Walloon).

Marocco, long away from the cliches: from the islamistic attentates to hawk rearing, and the many centuries old "tazotas" architecture.
Li Marok, erî des afroyîs pazeas (in walloon).
Tour de France: how cyclists trained 50 years ago.
Responda d' on vî coreu a velo, k' a cmincî marxhå.
---
July 2003.
Traditional faith of Negro-Africans.
Li fwè tradicionele des Noers afrikins.



(a paper from J.M. Lecomte).
An industrial plant common in Walloonia from 1200 to 1500, and exported in England : pastel.
Li waisse. (F.P. Ista).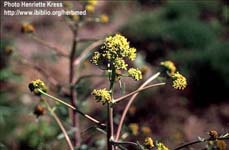 ---
August 2003.
Agro-industry and medical research.
Eggs against cancer (in Walloon).
A page on the Basque language.
L' Euscadeye eyet l' lingaedje basse (in Walloon).
---
September 2003.
Memories of vacations: hike in catalan Pyrenees.
Li cresse del Costabone (in Walloon).

(Lorint Hendschel)
Other report of journey: Gipsy pilgrimage of September in Hungary.
Szent Kut(in Walloon).

(Jean-Pierre Dumont)
A journey among Wisconsin Walloon community.
Del poude di vî tchinisse (in Walloon).

(Yves Paquet)
Manifest for Walloonia being responsable of its culture, its education and its research.
Afitcha pol Walonreye esse mwaisse di s' tuzance, di ses scoles et di ses sincieusès rcwerances (in French and Walloon).
Declaration of the linguistic rights of Walloons.
Riclamaedje po ls abondroets linwistikes des Walons (in Walloon).
Texts of Walloon migrants in the Wisconsin.
Mon les Walons d' Amerike. (in Walloon, with english presentation).
---
October 2003.
West Africa: towards the debacle ?
Afrike Coûtchantrece: tot ki toûne li cou ? (in Walloon).

(Lucyin Mahin)

New links
Li waibe da Maisse Arsouye (presentation of Wallonia, its culture, gastronomy, language).
---
November 2003.

Endandered langages: how the Paraguayers thought about neologisms whereas they underwent a genocid war.
Guere do Paragway et lingaedje gwarani (in Walloon).

(Pablo Saratxaga).

Archives: November 1997: the first demonstration for the Walloon language.
Li prumî metingue po disfinde li lingaedje walon.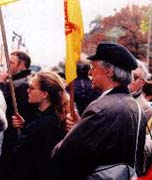 (Pablo Sarachaga)

Tribulations of the W.T.O.
L 'OMC fwait berwete a Cancun: tertos pierdants ? (in Walloon).

The biographic greaving narration a prisoner of the war 1914-1918.
Des croes dins les brouhires (in Walloon).
(E. Wartique et E. Thirionet).

Religions: the old and recent versions of the "Our Father" in Walloon.
Li pådje del påter (in Walloon).

New links
---
December 2003.

Continuation of the Yves Paquet report at descendants of Walloon of the Wisconsin (July 2003).
Del poude di vî tchinisse (in Walloon).

Concerning the history of languages in Wallonie.
Concernant l'histoire des langues en Wallonie (in french).

The Walloon: moribund language or fishpond of creativeness?
Le wallon: langue moribonde ou vivier de créativité? (in french).
(Nathalie Bléser Potelle)


Religions: The holy office in Walloon.
Li messe e walon (in Walloon).
---

All archives menu.
---